Wal-Mart exec shares global leadership experience with NWACC Enactus students
by Kim Souza ([email protected]) November 8, 2017 2:20 pm 1,010 views
Enactus members and students at NorthWest Arkansas Community College had an intimate conversation about business execution and leadership with a veteran Wal-Mart exec who spent the bulk of his 17 years working in the retailer's international division.
Blaine Douglas, senior director of international strategic initiatives at Wal-Mart Stores, said he spends most of his time in his Bentonville office, traveling usually once a month, most recently to China. He's leaving again for Asia on Friday, heading to Japan.
Douglas has had the opportunity to work in several of the retailer's foreign markets overseeing various operations in his tenure. Douglas said his team is now overseeing the retailer's massive private label initiative across the seven regional markets in which Walmart International operates.
"My team does not come up with the strategies but we are tasked with executing them. Right now it's private label. We are working on having the ability to track all of product's specifications for every item worldwide. If stores in Chile want to add a private label salsa they can log into the system and get the exact recipe and supplier information from say Mexico or anywhere else in the world they want," Douglas said during his 45-minute conversational talk as part of NWACC's Jack Shewmaker Lecture Series.
Walmart International operates in 27 countries, which are grouped into seven markets based on geography and language. Douglas said having a global sourcing ability for private label can shave months off the development cycle which is typically 52 weeks for a new product. He said when the retailer leverages all the data into a global database it also ensures the lowest possible cost which allows the retailer to pass those savings along in everyday low prices. Douglas said another benefit to private label is the profit margin which averages 15% more than competitive brands and the retailer can control the quality.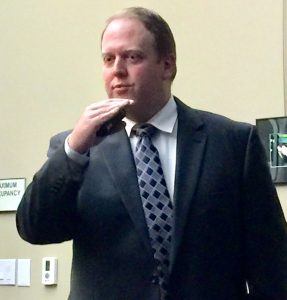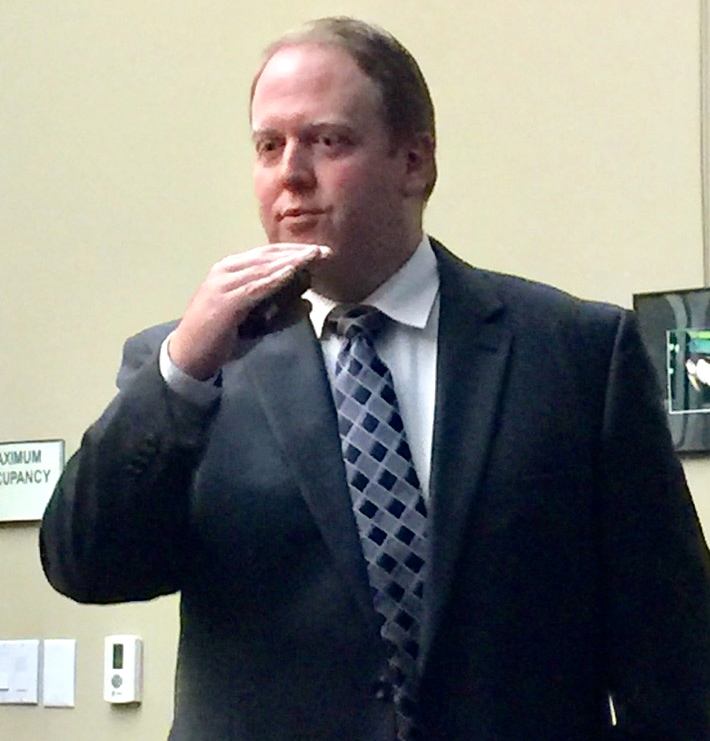 In a brief overview of the international division, Douglas said there are stark differences between countries and stores in the diversified international portfolio. He said Japan is a mature market where Walmart has a strong business contrasted with Argentina where the economy is weak and a small 100-store footprint makes for a challenging climate. He said Walmart entered Argentina in 1995 during a more stable time, but political turmoil and runaway inflation make it difficult for the retailer to operate.
"We are not investing in Argentina at this time. There is no reason to do so. Brazil is another tough market for us. We are third in this country that also has a challenging economy. But Chile is a really strong market. We purchased the Lider banner and have a solid market share. We are growing rapidly in China and making investments there. Mexico is strong, Canada is solid for us and Central America is also growing," he said.
Douglas said he and his family moved to Guatemala in 2007 and lived there for three years while he led integration in that country. He described the time as equally scary and exciting for his family to live abroad. It was not Douglas' first time to do so. He spent two years in Chile between the ages of 19 and 21 doing mission work where he became fluent in Spanish.
He talked briefly about the retailer's decade in India, saying it remains a small business as Walmart has decided to be a cash and carry, or wholesale business, with a modest growth plan over the next five years. He said the Massmart venture in South Africa is another area where there is potential for long-term growth. This venture includes home-improvement stores in addition to food and general merchandise retail. He said the strategy for Walmart International is to grow in those markets with most potential. Retail growth on the entire planet is poised to increase 5.8%, or $4.417 trillion, in the next five years. He said $703 billion of that is expected to come from China, representing a 15.5% jump on what is already a large base. The U.S. is second with a projected 8% total growth worth $645 billion. India is third at $354 billion, and Sub-Saharan Africa is slated to grow by $89 billion. Douglas said Walmart has exposure to nearly 55% of the global growth over the next five years. International markets account for 70% of the total growth exposure.
Walmart International CEO David Cheesewright said recently a main goal for his division is to provide sustainable growth with improving margins. The other goal for the division is to provide a world class talent pipeline for the rest of the company.
Douglas said the most difficult assignment during his tenure at Walmart was the five years he lead the integration in Brazil. He told the students to not be afraid to tackle hard challenges and to never give up on tough assignments. He admitted there were at least five times he wanted to quit during the Brazil assignment, but added he probably grew professionally and learned more during that period than any other time in his career.
"I recently recruited two people from Brazil to work on my team. I made tremendous contacts during this difficult period that have served me well," he said.
Douglas shared with the students his 10 tips for an aspiring employee. He said these are principles that he's lived by and learned over the years and wholeheartedly recommends to anyone in the workforce today, regardless of their age.
1. Always act with integrity.
2. Be the CEO of your business – own your responsibilities.
3. Be open to taking career risks – press yourself.
4. Display loyalty to your boss and your company.
5. Don't shy away from healthy friction.
6. Add value in what you're doing and communicate that value.
7. Stick with tough assignments and jobs.
8. Work with energy and passion.
9. Define your best ways of working and follow them consistency and discipline.
10. You are the biggest factor in your success. Make it happen.