Former Wal-Mart executive Don Soderquist, energy behind Soderquist Center, dies at 82 (Updated)
by Kim Souza ([email protected]) July 22, 2016 11:16 am 764 views
Editor's note: Story updated to include statement from John Brown University, a link to a letter from JBU President Dr. Chip Pollard, and comments from Wal-Mart Stores President and CEO Doug McMillon.
–––––––––––––––––––
Don Soderquist, widely hailed as an expert in business leadership who spent two decades at Wal-Mart as part of the now legendary management team that helped grow the company into the nation's largest retailer, has died from complications following heart surgery.
Soderquist, 82, died Thursday (July 21) at the Mayo Clinic in Rochester, Minn. with his family by his side. The family said arrangements for his funeral and burial will be forthcoming. Soderquist was a resident of Rogers and member of Fellowship Bible Church.
Soderquist rose to the ranks of vice chairman at Wal-Mart during his 22-year tenure. He retired in 2002 and launched the Soderquist Center for Leadership and Ethics located on the campus of John Brown University in Siloam Springs. He leaves behind a strong legacy according to some of his closest friends and former associates.
"Late last night I was watching the Republican National Convention when news broke about Don's passing. My Facebook page lit up as people from around the region began commenting on the legacy that he leaves with us all," said Andy Wilson, former Wal-Mart executive who also directly worked with Soderquist to grow the Soderquist Center, serving six years as its CEO.
"Don Soderquist is the man that truly lives by what he says as a servant leader. He was the real deal," Wilson said.
Wilson recalls a 1986 interview he had with Soderquist, then the vice chairman at Wal-Mart. At 29 years old Wilson said he had interviewed with executives all day for a job promotion that would take him from overseeing 12 stores to more than 120 stores. The last interview of the day was with Soderquist. Wilson said he will never forget that interview because Soderquist asked him to begin in prayer so that the two of them could align their focus before discussing the promotion.
"That caught me off guard, but then I thought what an interesting way to begin. We prayed together and we had a great interview afterward," Wilson told Talk Business & Politics. "That was my first exposure to Don as a young leader."
Wilson said Soderquist had a unique ability to see potential in people they might not see. But he didn't just see the potential. Wilson said Soderquist nurtured it and even pushed it at time, coaching up countless leaders at Wal-Mart and beyond through his work at the Soderquist Center.
"He had a strong passion to help people succeed and he spent lots of time with individuals helping them grow their leadership capabilities and careers. He never used a shotgun approach, but insisted on intimacy and that set him apart in corporate America," Wilson said.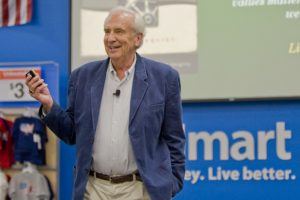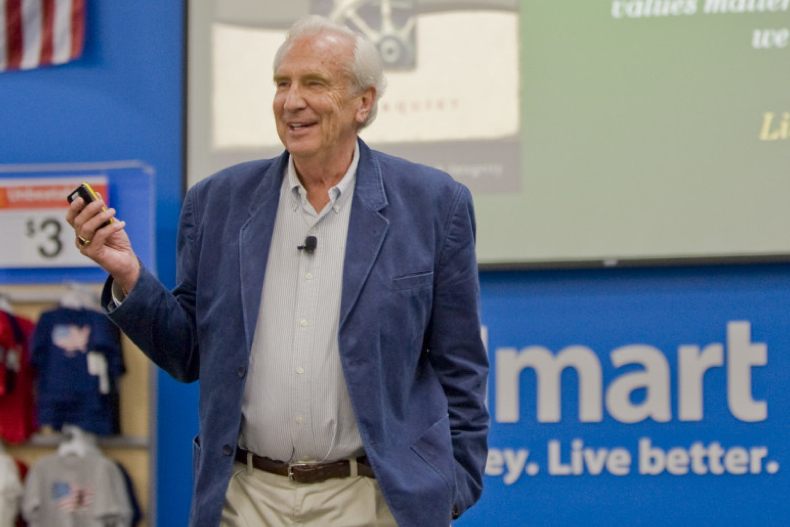 Wilson, who spent six years working directly with Soderquist in the early years of the Soderquist Center, said the two traveled often together through Europe and Asia.
"He never missed an opportunity to teach even if it was on a bullet train through Japan. His teaching and coaching helped to shape me into the leader I am today. Just this week I was dealing with a serious people issue and I was navigating through it my mind and went back to Don's teachings and it dawned on me how much my own coaching sounded like Don," Wilson said.
CULTURE KEEPER
Looking back at Soderquist's biggest contribution to Wal-Mart, Wilson said hands down Soderquist was the keeper of the culture that Sam Walton carefully crafted.
"Not only was Don the culture keeper but he helped Wal-Mart add to that culture in the years after Sam's death. He was passionate about it and it was Don who helped define the culture so we could all understand it and live it," Wilson said.
Soderquist was working in Chicago as vice president of data processing for Ben Franklin Stores when he met Sam Walton. That was 1963. By 1973, Soderquist was president and CEO of Ben Franklin Stores, and Walton finally convinced Soderquist to join Wal-Mart in 1980.
Soderquist was inducted into the Arkansas Business Hall of Fame in 2011 and in 2013 John Brown University named their business college after Soderquist following the family's $1 million gift to the college at that time.
Wal-Mart Stores President and CEO Doug McMillon on Friday posted his thoughts on the passing of Soderquist.
"Don epitomized the term servant leader. He was always thinking of others, provided great feedback and was encouraging to so many people. He had a deep passion for integrity, and it was Don who drafted our original core values. Don became known as the "Keeper of the Culture" after our founder, Sam Walton, passed away because he not only helped define our values – he lived out our culture and spoke passionately about it year after year. He truly believed that ordinary people could do extraordinary things when they worked together, and he taught the beliefs and values that supported that conviction for the rest of his life. Even after his retirement, he invested his time and energy into many associates who still work for the company," McMillon noted in a portion of his comments.
"Don Soderquist is known as a wise business leader who cares deeply for the growth and development of people because of his values, particularly his commitments as a Christian," Dr. Chip Pollard, JBU president said in 2013. "Naming the college in appreciation of Don's longtime support of JBU not only honors the gift of the Soderquist Foundation, but it also offers our business graduates a model to follow. We are deeply grateful to Don for all that he has done for JBU."
The university issued a statement Friday afternoon.
"Don, who had been a part of JBU for almost 35 years, had a knack for making people feel valued, loved and appreciated: with a probing question about the career plans of a business student, with an encouraging word to a basketball player, with a challenging story for a middle manager, with an anecdote about Mr. Sam for a Walton Scholar, with a sense of optimism about what was possible, and with a prayer of gratitude for God's grace in all of our lives," noted part of the statement.
The university on Friday posted Pollard's letter to the JBU community.
Wilson said the Soderquist Center was very much a passion for Don following his career at Wal-Mart. He said through his work at the Center, Soderquist was able to touch and impact so many more lives with his teachings and coaching.
"He didn't just analyze a business and diagnose the problems, but he stayed on and worked with them to implement solutions and build for the future. If Don touched it, it was going to be better than before," Wilson said.
SODERQUIST CENTER SUPPORT
Patrick Sbarra, a co-founder of New Creature Interactive in Rogers, said he heard Don Soderquist speak in 2000 at the former St. Mary's Hospital event and he was mesmerized by it. As New Creature began to grow quickly after its launch in 2000, Sbarra said they sought out the Soderquist Center for direction knowing that culture was key to a company's ongoing success.
He said the Center helped to bring on dozens of new employees and indoctrinate them into the New Creature's culture much faster than otherwise. This was important for a growing company that held culture in its three main priorities, Sbarra said.
"Don inspired all of us to get out of our comfort zones and encouraged us to do more than we thought we could. A great role model. I will cherish the times I had the opportunity to be around and listen to Don," noted Wes Grab, a market manager at Wal-Mart who posted that sentiment on Facebook.
Other's sought to share their favorite quotes attributed to the business leader. Joyce Clark, a former co-worker with Soderquist shared, "Don't cry when it's over but smile because it happened."
"I think these words are very appropriate to share now as we are all sad … I don't believe Don would want us to cry because he is gone but to smile because his life happened! What a legacy he left us all," Clark wrote.