Lexicon Inc.
2023 Northeast Arkansas Outstanding Business of the Year
Large Business award
Tom Schueck had a life-changing decision to make. His wife, Marge, was pregnant and the 27-year-old didn't like working for someone else. He'd worked in construction and had a civil engineering degree.
Schueck took a gamble and started his own construction company, Lexicon Construction and Fabrication. More than 55 years later, his company employs about 2,000 people and has annual gross revenues of more than $900 million, he told Talk Business & Politics before he passed away in 2020.
Before Schueck died, his son, Patrick, started to work for the company. Patrick wasn't sure if he wanted to go into the family business. Tom was a "hard charger" and the two didn't always see eye to eye, Patrick said. But through the course of time, he began to appreciate his father's work ethic and leadership style. He went to work for Tom and now serves as the company's CEO.
"I often find myself saying something that my dad would have said, and sometimes, I mentally put myself in his shoes when making a hard decision. I've even asked my executive team, 'Hey, this is a big decision. What would Dad do?' It's funny now because, growing up, I swore I would never do that," he said. "As a company, Lexicon is on a huge growth trajectory right now. The industrial construction market is operating on a high level — one that I have not seen in my entire career."
The Little Rock-based company is active with several projects in Northeast Arkansas. In the late 1980s when Lexicon was selected to build the Nucor Steel Arkansas plant, it saved the company and catapulted it to a new level.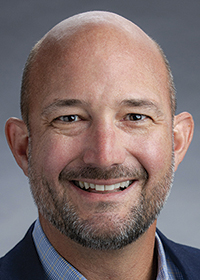 Today, Lexicon is involved in a variety of large industrial, commercial, and roadway projects around the country. It specializes in many types of construction projects including steel mills and golf courses. Lexicon is divided into four divisions. Lexicon's Construction division (formerly known as Schueck Steel) specializes in structural steel erection, mechanical equipment installation, construction management, and plant maintenance. The Prospect Steel division specializes in structural steel fabrication and erection. The Custom Metals division focuses on plate and sheet fabrication, installation, and maintenance. Heritage Links specializes in golf course construction.
As the decade unfolds, Patrick is optimistic about Lexicon's prospects. Pent up demand after COVID, rising interest rates, and several bills passed by Congress including the infrastructure bill have spurred growth in the industry in recent years, he said. Interest rates may go higher, and a lot of companies realize it may be cheaper to build today than tomorrow, he added.
"We're currently seeing the reshoring of America. I think in the next decade, we will see even more companies move from China and other countries back to the U.S. I believe we will see more bills passed that include funding for different types of manufacturing devices, such as microchips and electric vehicles so that we can bring that work back to the United States," he said.