The United States Tennis Association (USTA) has named 25 winners of its 2021 Outstanding Facility Award, and one of the recipients is a business in Lowell.
Matrix Racquet Club, an 11-acre complex at 1219 Mills Lane west of Interstate 49, is one of this year's recipients. Shannon Hudson, her husband Johan den Toom, and her mother Barbara Hudson are the developers behind the club, which opened in January.
The USTA's annual award recognizes excellence in the construction or renovation of tennis facilities in three categories: public courts, private facilities and educational institutions. Matrix is one of six clubs that the USTA selected in the private facilities category, joining others in New York, Delaware, North Carolina, Texas and Kentucky.
Matrix is the only Arkansas facility among this year's 25 winners.
"It's nice to be recognized by the biggest tennis association in the country," Shannon Hudson said. "We're honored by this."
To be considered for an award, facilities must be under the jurisdiction of a parks and recreation department, an educational institution, a nonprofit corporation, or a private or commercially-owned-and-operated facility that offers USTA and public programming designed to help grow tennis.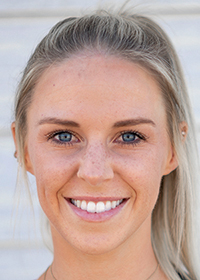 In October 2018, Springdale-based Legacy National Bank gave Matrix Racquet Club LLC an 18-month construction loan worth $4.5 million. Prairie Grove-based Steadfast Contracting used a building permit valued at $11.1 million to build the complex. It has indoor and outdoor courts for tennis, pickleball courts and the first padel courts in Arkansas.
Other Matrix amenities include fitness studios, healthy cafes, adult and junior programming, cardio tennis, a spin theater, massage therapy, an active-wear boutique, information seminars and social events.
Hudson and den Toom are former University of Arkansas tennis players who graduated in 2018. They married this past July. Hudson, a Virginia native, said she and her husband, from the Netherlands, grew to love Northwest Arkansas while attending the UA.
Matrix has a little more than 200 members.